Posted by Bailey in Random | 3 Comments
New Years Reading Resolution Giveaway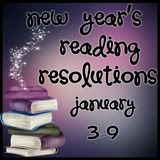 Yay! Time for a new giveaway to celebrate the new year! I can already feel that 2011 will be a good one! This giveaway will go from January 3 to January 9. For my giveaway, I have two prize packs up for grabs. The first one includes Stormwalker and Firewalker by Allyson James. I picked these books up awhile ago but have never had time to read them and my TBR shelf is already overflowing, so I thought I would put these up for grabs for anyone who has been wanting to read them. To my fellow teens, keep in mind that this is an adult romance series and while I may be able to handle reading them, I am not so sure about others. Please get your parents permission if you do decide that you want to enter for this portion of the giveaway.
The next prize pack includes a signed copy of Wings by Aprilynne Pike and The Eternal Kiss anthology signed by Kelley Armstrong. I will also throw in swag in both of these prize packs.

This giveaway is U.S. only and you must be 13 years or older to enter and a follower through GFC. Extra entries will be given if you link the contest anywhere or are a twitter follower. Fill out the form below to enter.