Posted by Bailey in Random | 2 Comments
Once Upon a Read-A-Thon Update/Conclusion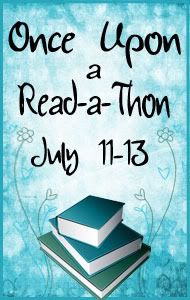 Hey guys! I had an awesome time participating in the read-a-thon. Even though I had doctors appointments, got some school stuff situated, and got an iPhone that distracted me, I still managed to read three books for the read-a-thon! Yay! I completed Touch of Frost by Jennifer Estep, Falling For Hamlet by Michelle Ray, and The Near Witch by Victoria Schwab. I also managed to write reviews for all of them! I am on my fourth book now, Wolfsbane by Andrea Cremer. I know I probably won't finish it before the read-a-thon is over, but I hope to have read a good chunk of it by tonight!
I just want to say thank you so much to Angela, Lori, and Candace for hosting the read-a-thon. You guys got me reading, even when it seemed like I had no time at all to read. My TBR pile is huge so completing three books is a great accomplishment. I did not get a chance to read Shade by Jeri Smith-Ready, but I will probably read it after Wolfsbane.
Also, I really enjoyed hosting a mini challenge. Thank you to all of those who participated and/or commented. I really appreciate it. I will choose the winners tomorrow and send the winners emails. I don't usually make a blog post about who wins my contests, so don't freak out when you don't see anything. The winners will definitely know that they won.
Well, enough rambling from me. It's back to reading Wolfsbane. Hope everyone is having a productive and fun read-a-thon. Thanks to Angela for reading all my texts and answering them even though we should both be reading. =P LOL. Love you, Angela!