Posted by Bailey in Random | 7 Comments
Once Upon a Read-a-Thon 2012 Goals and Updates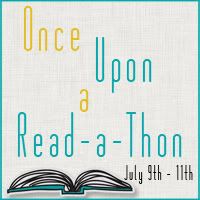 Hello fellow read-a-thoners! Today marks the first day of the read-a-thon and I am really excited! Finally I will have an excuse to just sit down and read, read, read. I participated last year and had a ton of fun! While my reading goal was not met, I am going to try to beat it this year!

Wish me luck.
I'm planning on reading 5 books as of today:
Team Human by Justine Larbalestier and Sarah Rees Brennan (Read)
Alice in Zombieland by Gena Showalter (Read)
Mothership by Martin Leicht and Isla Neal (Read)
Cold Fury by T.M. Goeglein–currently reading
The Forsaken by Lisa M. Stasse
I will post updates every day on my blog and on twitter.

Stay tuned!
7/9
**Update: Finished Team Human at 1:00 PM, review written, now onto Alice in Zombieland

7/10
**Update: Finished Alice in Zombieland at 9:30 AM, review written, starting Mothership
***Update: Finished Mothership at 5:00 PM, starting Cold Fury