Posted by Bailey in Random | 14 Comments
Once Upon a Read-a-Thon 2012 Mini Challenge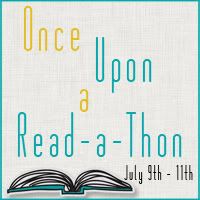 Hello fellow read-a-thoners! I am excited to be hosting a mini challenge for the second year in a row.

This time instead of a mythology challenge, I'm focusing on the covers. There have been so many awesome cover reveals this summer that all I have on the brain is covers, pretty covers, interesting covers, colorful covers and everything in between covers! You must answer both questions below either on your blog, Twitter, Facebook, or Tumblr. Leave a link to your answers in the linky below.
There will be 2 winners. Each winner will get to choose one book from my ARC pile whose covers are among some of my favorites: Once by Anna Carey, Glass Heart by Amy Garvey, Crewel by Gennifer Albin, Because It Is My Blood by Gabrielle Zevin, Blessed by Tonya Hurley, and maybe even a few more! This giveaway will end at the end of the read-a-thon on July 11th at 11:59 PM. Winners will be selected at random from the linky below.
***Edited to add: If you aren't from the US, please still participate if you would like! The giveaway is just an extra.
****Edited again: International entrants: You can still win! Any international entry that I draw in the end can choose any book they want off The Book Depository under $15.
Question 1:
What is your favorite cover that has been revealed this summer and why? Post a link or picture of the cover if you want.
Question 2:
Do you rely on the cover to help you choose whether you want to read a book or not?