Posted by Bailey in Giveaway, Interview, New | 10 Comments
Author Interview: Gennifer Albin and a Giveaway
Hi guys! To promote the Crewel $2.99 ebook deal, Gennifer Albin is stopping by to for an interview about her life post-publication. Since Crewel was one of my favorite books of 2012, I am SO happy that this will give more people the chance to read it. Now we just need the sequel….

1. Have you encountered anyone reading Crewel in real-life yet? Or tweets from those reading Crewel? What is that like?
I've walked into a few signings and caught people reading, and I get the occasional text from a friend to let me know they've spotted in the wild.  It's all very clandestine, except for the time I asked a girl at a store to let me take a pic of her.
I love getting tweets from people who are reading Crewel.  It absolutely makes my day to get a tweet or have a post pop up on Tumblr.
As for how it feels:
2. What is it like getting emails from fans that express their love for Crewel?
Karma has a funny way of sending those along when I need them the most.  I love love love getting fan mail and I try to respond quickly.  It's sort of like a stranger walking up and saying "you are beautiful," and you immediately respond "thank you." It makes you happy and jittery and self-conscious at the same time.
3. What is the most surprising thing that has happened to you revolving around Crewel since it came out?
It was reviewed in The New York Times.  As in The New York Times.  Or as I like to call it The New York Times.  That was crazy.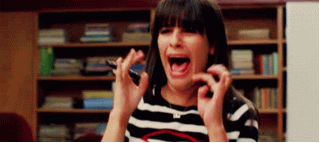 Thank you so much for sharing, Gennifer!
About Crewel:
Enter a tangled world of secrets and intrigue where a girl is in charge of other's destinies, but not her own.
Sixteen-year-old Adelice Lewys has always been special. When her parents discover her gift—the ability to weave the very fabric of reality—they train her to hide it. For good reason, they don't want her to become a Spinster — one of the elite, beautiful, and deadly women who determine what people eat, where they live, how many children they have, and even when they die.
Thrust into the opulent Western Coventry, Adelice will be tried, tested and tempted as she navigates the deadly politics at play behind its walls.  Now caught in a web of lies and forbidden romance, she must unravel the sinister truth behind her own unspeakable power.  Her world is hanging by a thread, and Adelice, alone, can decide to save it — or destroy it.
Thanks to Macmillan, I have a hardcover copy of Crewel and a Crewel bracelet to give away to one lucky winner. Must be 13 years or older to enter and live in the U.S. or Canada. Just fill out the Rafflecopter form below.

Be sure to stop by these other blogs for more info into Gennifer's life post Crewel publication, as well as for more chances to win Crewel.

Thursday 2/7
Friday 2/8
Saturday 2/9
Sunday 2/10
Monday 2/11